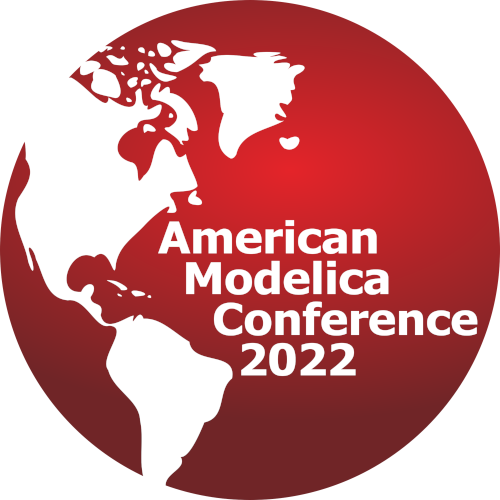 The American Modelica Conference
Dallas, October 26-28, 2022
Deadline for submission of industrial user presentations and tutorials extended to July 1st!
Post-Event Materials from the American Modelica Conference 2022
In the sections below, you can find the pdfs of presentations, individual abstracts and papers, pictures of the paper awards and links to the recordings hosted on Youtube. See the full video playlist by clicking here.
Keynote Presentations
Vendor Session Presentations
| Presenter | All Vendor Representatives |
| --- | --- |
| Title | Vendor Session Presentations |
| Video | [Open in Youtube!] |
| Presenter | Michael Tiller |
| --- | --- |
| Vendor | Realis Simulation (formerly Ricardo Software), Platinum Sponsor |
| Video | [Open in Youtube!] |
Presentations of Peer-Reviewed Papers, Full Papers and Abstracts
Building Energy Session 1
| Authors | Fabian Wüllhorst, Laura Maier, David Jansen, Larissa Kühn, Dominik Hering and Dirk Müller |
| --- | --- |
| Title | BESMod - A Modelica Library providing Building Energy System Modules |
| Files | [Presentation] [Full Paper] [Abstract] |
| Video | [Open in Youtube!] |
| Other | Winner of the Best Conference Paper Award! :1st_place_medal: |
| Award | |
| Picture | |
| Authors | Jiacheng Ma, Donghun Kim and James E. Braun |
| --- | --- |
| Title | Transient Simulation of an Air-source Heat Pump under Cycling of Frosting and Reverse-cycle Defrosting |
| Files | [Presentation][Full Paper] [Abstract] |
| Video | [Open in Youtube!] |
| Other | First Runner-Up, Best Paper Award! :2nd_place_medal: |
| Award | |
| Picture | |
Aerospace Session
| Authors | Meaghan Podlaski, Luigi Vanfretti, Robert Niemiec and Farhan Gandhi |
| --- | --- |
| Title | Extending a Multicopter Analysis Tool using Modelica and FMI for Integrated eVTOL Aerodynamic and Electrical Drivetrain Design |
| Files | [Presentation][Full Paper] [Abstract] |
| Video | [Open in Youtube!] |
Power Generation Session
| Authors | Iker Landa del Barrio, Julen Cestero, Marco Quartulli, Igor G. Olaizola, Naiara Aginako and Juan José Ugartemendia |
| --- | --- |
| Title | Using Multi-Physics Simulation to Estimate Energy Flexibility for Local Demand Response Strategies in a Microgrid |
| Files | [Presentation][Full Paper] [Abstract] |
| Video | [Open in Youtube!] |
| Authors | Mohamad Omar Nachawati, Gianmaria Bullegas, Andrey Vasilyev, Joe Gregory, Adrian Pop, Maged Elaasar and Adeel Asghar |
| --- | --- |
| Title | Towards an Open Platform for Democratized Model-Based Design and Engineering of Cyber-Physical Systems |
| Files | [Presentation][Full Paper] [Abstract] |
| Video | [Open in Youtube!] |
Building Energy Session 2
| Authors | Hongtao Qiao and Christopher Laughman |
| --- | --- |
| Title | Performance Enhancements for Zero-Flow Simulation of Vapor Compression Cycles |
| Files | [Presentation][Full Paper] [Abstract] |
| Video | [Open in Youtube!] |
| Other | Second Runner-Up, Best Paper Award! :3rd_place_medal: |
| Award | |
| Picture | |
| Authors | Cary A. Faulkner, John E. Castellini Jr., Yingli Lou, Wangda Zuo, David M. Lorenzetti, Michael D. Sohn |
| --- | --- |
| Title | Tradeoffs Between Indoor Air Quality and Sustainability for Indoor Virus Mitigation Strategies in Office Buildings |
| Files | [Full Paper] [Abstract] |
| Video | [Open in Youtube!] |
Model-Based Design Session
| Authors | Giuseppe Laera, Luigi Vanfretti, Marcelo de Castro Fernandes, Sergio Dorado-Rojas, Fernando Fachini, Chetan Mishra, Kevin D. Jones, R. Matthew Gardner, Hubertus Tummescheit, Stéphane Velut and Ricardo J. Galarza |
| --- | --- |
| Title | Guidelines and Use Cases for Power Systems Dynamic Modeling and Model Verification using Modelica and OpenIPSL |
| Files | [Presentation][Full Paper] [Abstract] |
| Video | [Event Recording - Open in Youtube!], [Pre-Recorded Presentation - Open in Youtube!] |
| Authors | John Batteh, Jesse Gohl, James Ferri, Quang Le, Bill Glandorf, Bob Sherman and Rudolfs Opmanis |
| --- | --- |
| Title | Material Production Process Modeling with Automated Modelica Models from IBM Rational Rhapsody |
| Files | [Presentation][Full Paper] [Abstract] |
| Video | [Open in Youtube!] |
Industrial User Presentations Sessions
User Session 1
| Presenter | Michael Wetter, Kathryn Hinkelman, Jing Wang, Wangda Zuo, Antoine Gautier, Chengliang Fan and Nicholas Long |
| --- | --- |
| Title | Model-Based Optimization for a Campus District Cooling System |
| Files | [Presentation][Abstract] |
| Video | [Open in Youtube!] |
| Presenter | Tao Yang, Konstantin Filonenko, Isabela Zuluaga and Christian Veje |
| --- | --- |
| Title | Comparative Analysis of Price-based Control Strategies for a High Temperature Thermal Energy Storage System |
| Files | [Presentation][Abstract] |
| Video | [Open in Youtube!] |
User Session 2
| Presenter | Yingbo Ma, Keno Fischer, Chris Rackauckas and Viral Shah |
| --- | --- |
| Title | Prototyping Composable Simplification Passes for Equation-Oriented Models Using ModelingToolkit.jl |
| Files | [Presentation][Abstract] |
| Video | [Open in Youtube!] |
| Presenter | Valentin Gavan, Patrick Chombart, Charlie Duprat, Jérémie Fricker, Benoît Radet and Kevin Maquin |
| --- | --- |
| Title | Innovative concepts and application for large scale and multimode systems : use case study of heat networks |
| Files | [Presentation][Abstract] |
| Video | [Open in Youtube!] |
| Authors | Akhlak Bin Aziz and Caleb Brooks |
| --- | --- |
| Title | Modeling an integrated energy system in OpenModelica to utilize the output of a nuclear reactor for producing energy and powering a desalination plant |
| Files | [Presentation][Abstract] |
| Video | [Open in Youtube!] |